What are the characteristics of your products?
Product – Vetedy Decks
Quelles sont les caractéristiques des produits Vetedy ? – Est-ce que vous fournissez le bois et la fixation ?
Quelles sont les caractéristiques des produits Vetedy ? Est-ce que vous fournissez le bois et la fixation ? Oui, Vetedy est fabricant d'un système complet avec lames de revêtement et fixations adaptées. C'est d'ailleurs l'un des avantages que prône Vetedy ; tous les éléments sont fabriqués de façon à pouvoir être assemblés ensemble sans aucun risque de manière durable.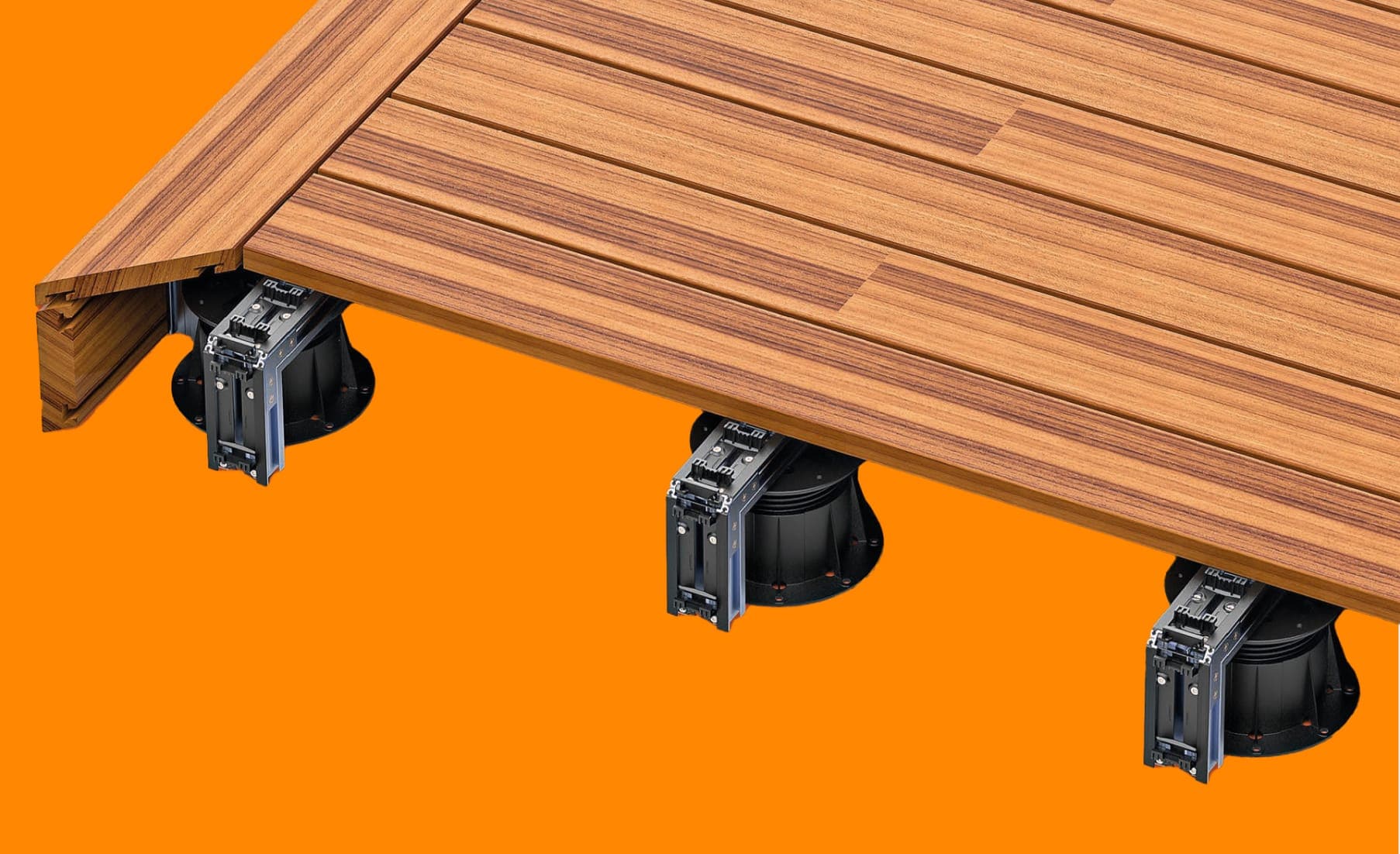 Image du nouveau système technideck
Quelles sont les caractéristiques de vos produits ? – Pourquoi devrais-je opter pour une terrasse Vetedy ? 10 bonnes raisons d'opter pour une terrasse Vetedy. 
1. 100% hidden fastening system
2. Complete system guaranteeing durability
2. Removable blades
4. Sustainability of the system
5. Wood – Noble natural material
6. Stride-friendly material – neither hot nor cold
7. Recyclable
8. Speed of installation
9. Flexibility – International family business
10. A professional service at your disposal
Which wood to choose for my deck?
Quelles sont les caractéristiques des produits Vetedy ? Ce choix est avant tout une affaire de goût. La première chose à savoir est si vous souhaitez laisser naturellement griser le bois. Dans ce cas-là, le choix du bois n'a plus vraiment d'importance car il faut avoir un œil aguerri pour déceler les différentes essences de bois une fois grisées. Il y a toutefois des nuances dans la structure du bois, notamment dans le grain. Aussi, plus un bois est dense, plus il aura tendance à micro-fissurer (ce qui n'altère aucunement la longévité du bois). En fonction de votre budget, du lieu d'utilisation et de vos exigences dimensionnelles, chacun de nos bois pourra répondre à vos besoins spécifiques.  
Si vous souhaitez traiter votre terrasse, il faudra alors vous fier à la couleur naturelle du bois. Il sera important de vous référer au fabricant du traitement choisi car la couleur finale dépendra de celui-ci.  
Afin de trouver l'inspiration pour votre future terrasse Vetedy, vous pouvez vous rendre sur la page photothèque sur laquelle vous pourrez retrouver divers projets dans diverses essences. 
Is it better to choose wood, composite or stone/concrete for your deck?
Opting for a wood deck has several advantages over other types of decking:
Wood is the most renewable raw material on earth.
By choosing a wood deck, you continue to store the CO2 that the tree has captured during its life. To learn more about the ecological benefits of our wood, visit the page dedicated to our ecological commitments.
The woods that Vetedy offers for its decking systems are naturally rot-proof. Therefore, they do not need treatment to last over time, contrary to common belief.
The woods selected by Vetedy are noble woods, which will bring a certain added value to your surroundings.
Unlike stone or porcelain tiles, the woods selected by Vetedy do not burn in summer.
What kind of wood should I use for my pool surround?
All the wood species that Vetedy offers in its range are compatible around a pool. Be careful with certain species, such as merbau, which releases tannin and is not recommended to be placed in contact with a liner or other light-colored and porous material at the risk of staining it. However, this phenomenon can be mitigated by several techniques during and immediately after installation. The merbau is therefore suitable for pool towers by taking the necessary precautions. Other wood species may also reject a little tannin.
What are the main advantages of a wood deck?
A wood deck has several advantages:
Natural and warm materials
Ecological materials
Noble materials that add value to your home
Pleasant to walk on in summer
The woods offered by Vetedy do not require any treatment. A simple annual cleaning is all it takes to make your deck enjoyable for the warm weather.
Vetedy's wood decks with invisible fastening systems are made exclusively from wood with high durability and natural stability.
What is the weight of the Vetedy system?
The weight varies according to the type of wood and the type of product(Softline or Technideck). It varies between 11 and 18Kg/m2 for the Softline system (slats and clips) and 16.7 and 27Kg/m2 for the Technideck system (aluminum structure, clips and slats).
What is the height/thickness of the Vetedy system?
Quelles sont les caractéristiques des produits Vetedy ? L'épaisseur du système Softline (lame et clips) est de +/- 25mm à quoi s'additionne l'épaisseur de la lambourde choisie. L'épaisseur du système Technideck incluant la lambourde aluminium, la planche et le clip de fixation varie entre +/- 63 et 68mm selon l'essence de bois choisie. 
Can the Vetedy decking system be installed around a chlorine or salt pool?
Yes, but there are precautions to be taken. Be careful with the chlorine dosage for the aluminum material. Also provide A4 stainless steel screws for seawater pools.
What is the difference between the Softline system and Technideck?
The difference from a visual standpoint is in the width of the deck boards and the wood species available with each system. In Softline, the deck boards are 100mm* wide. The Technideck system offers 100mm* and 140mm* wide blades. Board lengths between the two systems also vary slightly.
Only bamboo and heat-treated ash are available on the Technideck system. Padauk, merbau, ipe and cumaru are all compatible with both systems.
Secondly, the difference from a structural point of view of the systems is the material and the way the fasteners are held to the structure.
The Softline system consists of a profiled wood plank and a Softline clip that is usually attached to a wood joist with 2 screws. The Technideck system consists of an aluminum joist and pre-mounted clips that slide in a rail directly profiled in the joist.
The Technideck system is also more complete in the sense that it offers accessories to help with installation, such as spacers, various connectors for the structure and a one-click fastening system on adapted studs.
*Theoretical dimensions
Do Vetedy systems meet the DTU requirements? (French regulations)
The DTU 51.4 does not provide any contraindications for invisible fasteners. Nevertheless, Vetedy systems all have more restrictive specifications than the current standards for mechanical fasteners.

What about c-tech bamboo?

Contrary to popular belief, bamboo is a plant and more precisely a grass native to Asia. There are more than 2300 species on earth. In order to be used as a deck, bamboo goes through several manufacturing processes.
To obtain the new generation of C-Tech Bamboo, the most important steps are the crystallization of the fibers with the CeramiX® nanoparticle, the impregnation with phenolic resin (the same resin found in bowling balls), and then the compression in a 2:1 ratio to form compressed bamboo. The compressed bamboo is thus completely impregnated with CeramiX® nanoparticles that crystallize nutrients while avoiding the attraction of bacteria, fungi, molds and insects and allows the fiber to not rot in exposed environments.
Despite these steps and the products used, our FSC certified bamboo is a very sustainable resource due to the fact that it grows at a very fast rate. The Dasso type Bamboo is ready to be cut and transformed after only 5 years of growth.
The Bamboo C-Tech Dasso has several advantages. Besides the "endless" resource, it is also very hard, very durable and very stable.