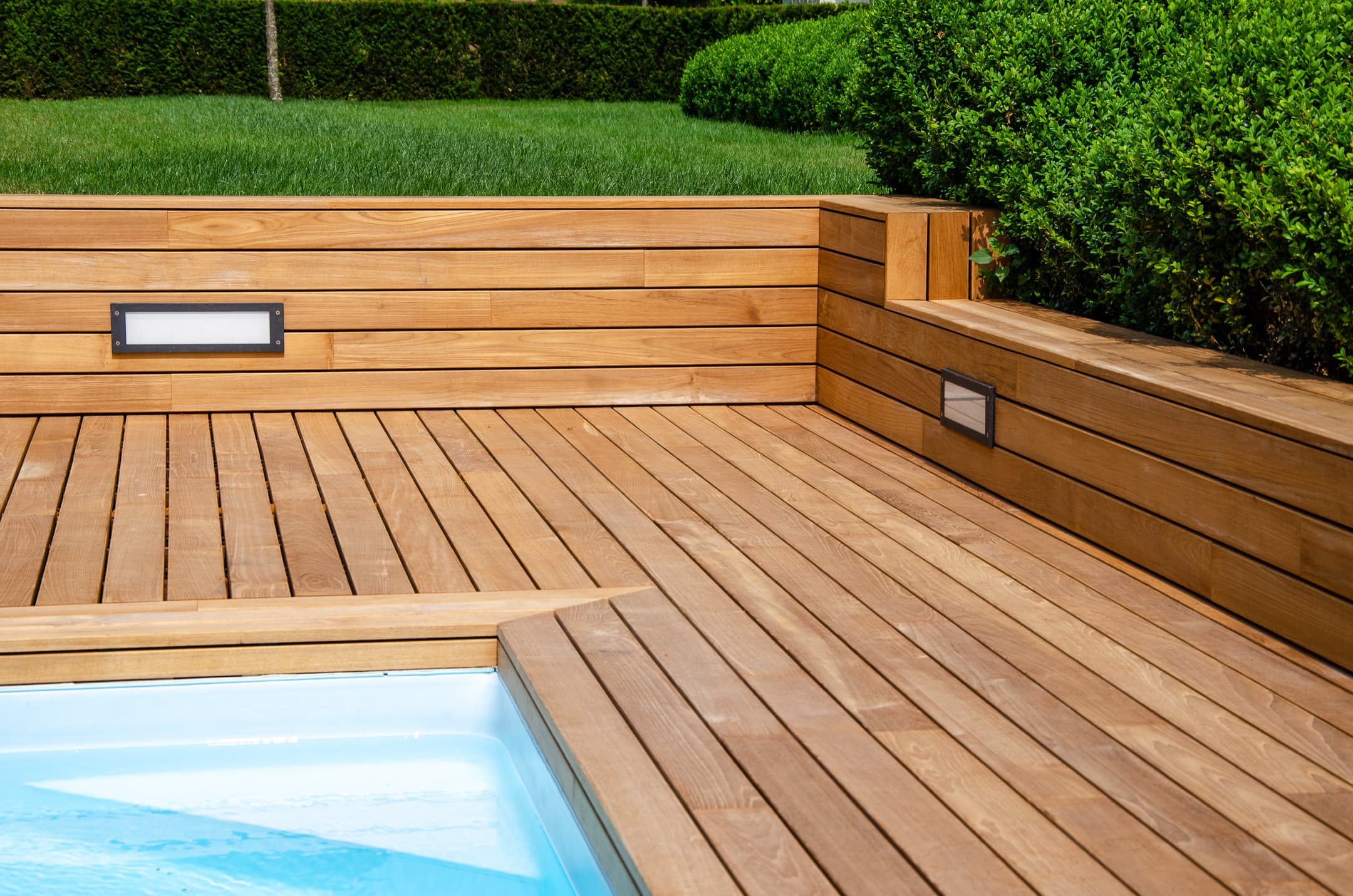 Wood decking with invisible fixation
Wood board – Softline
A sustainable, qualitative, simple but technical system,
proven and approved worldwide.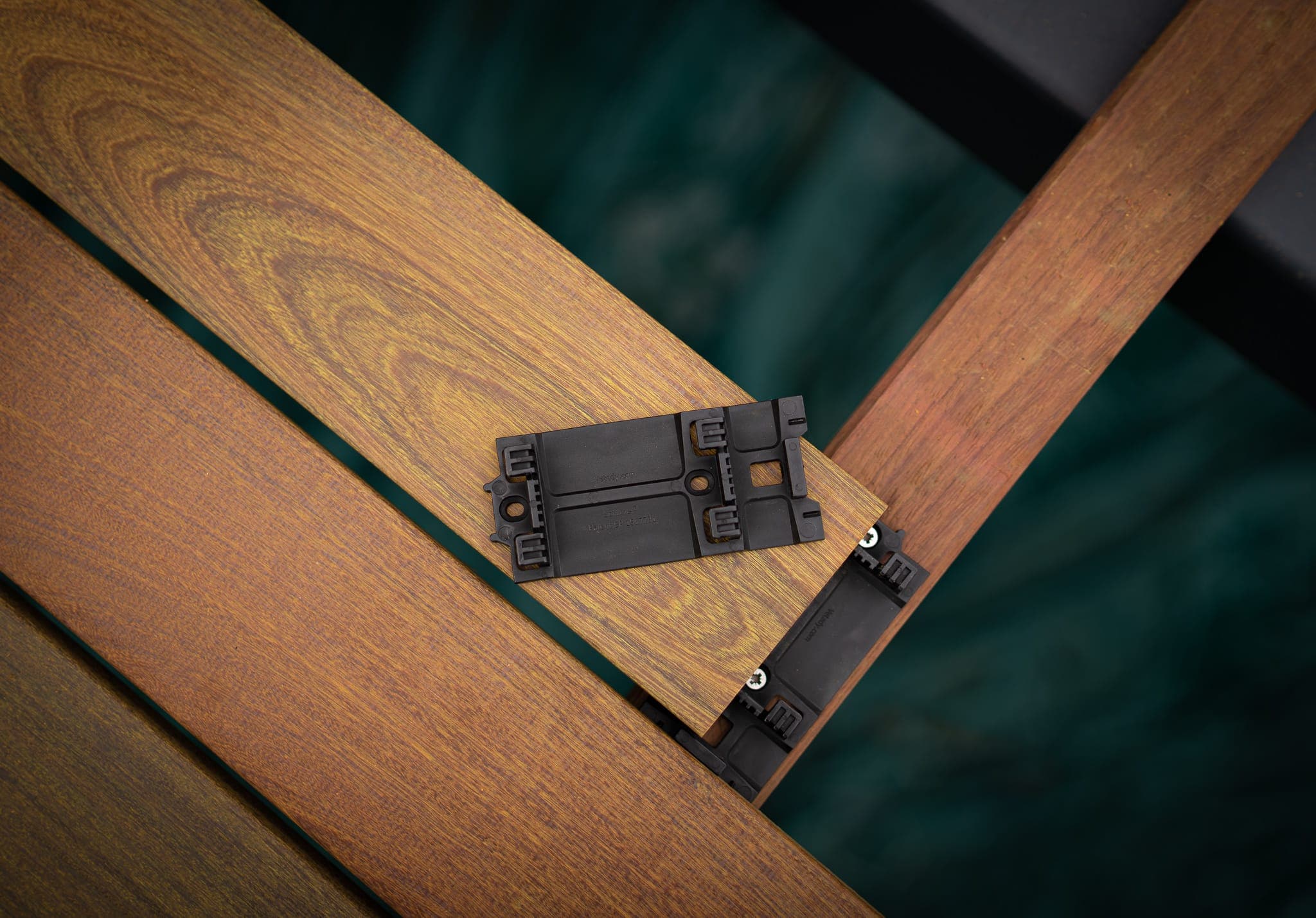 Clip-on decking
Invisible. Strong
Rot-resistant
Softline is a complete wood decking system with 100% invisible fastening invented, manufactured and patented by VETEDY since 2001.
Proven and tested by our partners around the world, the Softline system revolutionized the world of wood decking in the 21st Century. The invisible fastener made of technical composite material combined with wood species selected for their stability and VETEDY'S own manufacturing process give the Softline system.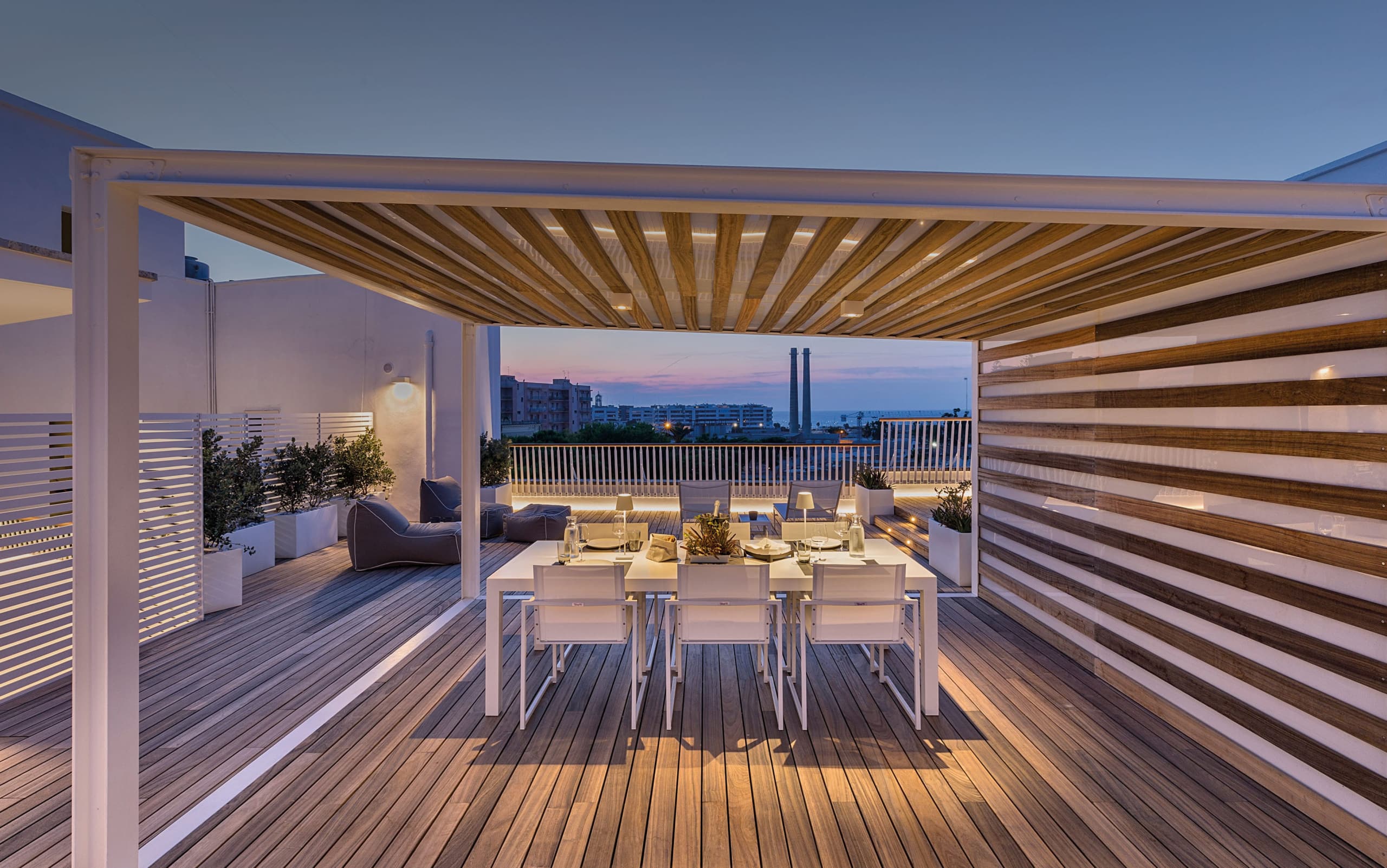 The choice of serenity.
Smooth and perfect finish
Our invisible method of fastening the boards to the joists, but also to each other, ensures a long life and a smooth and perfect finish, without splinters, for the comfortable feeling of walking on the wood with bare feet.
The Softline clip system is the assurance of having the quality of a parquet floor outside. The premium quality of our decks has allowed us to rename them "garden floors".
From managed forests
Finally, our garden floors come from well managed forests of the world often labeled as FSC ("Forest Stewardship Council." International non-profit organization that promotes responsible forest management worldwide) and OLB for the species of Africa, VLK for the wood of Indonesia and ibama, (Office of forests of Brazil) for the forests of Brazil. The wood we import follows the EUTR/FLEGT regulation.
Invisible fastening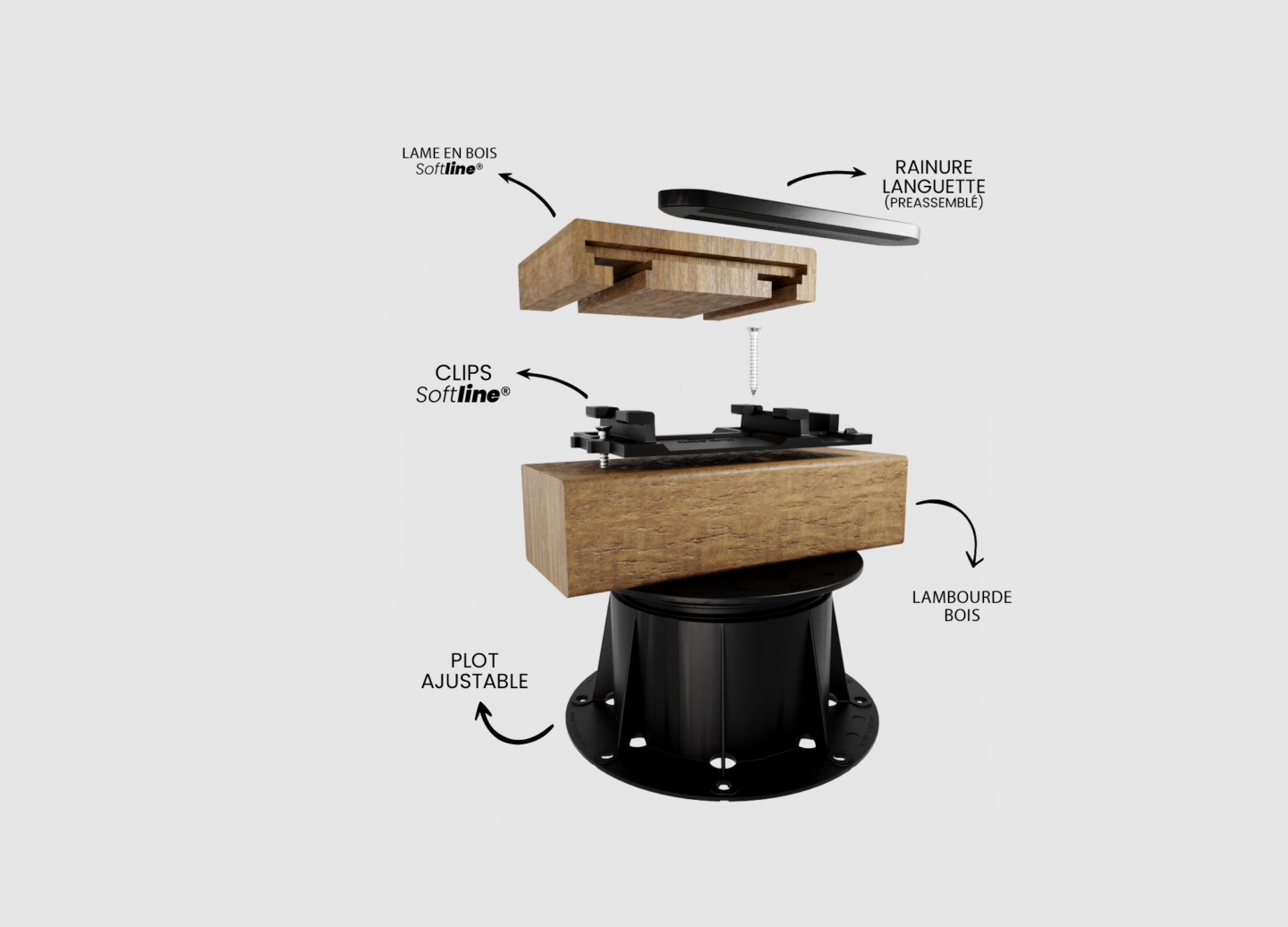 Invisible fastening with Softline clips
The Softline® system is installed in 3 steps:
1. Screwing of the clip
2. Nesting of the board from the top and then laterally
3. Installing the next clip and screwing it in place
In order to guarantee a 100% compatible assembly with our Softline fastening system, we profile the specific grooves in our workshops on a machine specially designed for this purpose.
Complete decking system
By providing a complete system, we ensure the compatibility of all materials and components integral to the system to maximize the overall durability of the deck.
High quality wood decking – Softline
A revolutionary system for garden floors and pool decks.
The Softline fastener is a revolutionary system that allows for the installation of wooden boards without any visible screws, improving both the strength of the structure (no more weak points in the board or shearing of the screw) and its aesthetics, which have become perfectly homogeneous.
Our exceptional wood species: Padouk, Merbau, Ipé, Teak have been chosen for their technical characteristics perfectly adapted to the most varied and variable climatic conditions for your wooden decking.
Our wood products, which are dried to an average moisture content of 13% (+/- 2%), are perfectly rot-proof (class 1 of durability and class of use 4-5) without any chemical treatment and are very stable regardless of external conditions. Padouk, an African species, was chosen for its exceptional technical quality and for its contemporary color. It is produced in Cameroon. The Asian essences are manufactured by us in Indonesia for Merbau and Teak. The Ipe and the Cumaru Blondo come from South America. We carefully select our wood species based on several strict criteria: Their resistance, their place of origin, as well as the respect of the forests and their culture conditions.
Advantages of our invisible clip system
100% invisible fastening

The decking as well as the belts and edges of the terrace are fixed in a 100% invisible way with the same fastener.

Complete system

VETEDY supplies the fasteners and the decking boards and thus ensures the compatibility and quality of all the decking components.

Removable

The Softline system allows for quick and easy removal of any board. Each board can be removed and/or replaced independently

Durability

The isolation of the board from the structure, the technical composite material of the fastener, the manufacturing process and the quality of the proposed wood give the Softline decking system an extremely increased durability.

Geographical compatibility

VETEDY'S worldwide experience shows that a properly installed Softline deck following the installation instructions, is suitable for any geographical area.
Types of wood
* Non-contractual photos
Padouk

20 x 100 mm x variable lengths (3/4" x 3-15/16")

Merbau

20 x 100 mm x variable lengths (3/4" x 3-15/16")

Ipe

20 x 100 mm x variable lengths (3/4" x 3-15/16")

Teak

20 x 96 mm x variable lengths

Cumaru Blondo

20 x 100 mm x variable lengths (3/4" x 3-15/16")

Padouk (new)

25 x 140 mm x variable lengths (1" x 5-1/2")

Merbau (new)

25 x 140 mm x variable lengths (1" x 5-1/2")

Thermo Ash (new)

25 x 140 mm x variable lengths (1" x 5-1/2")

Bamboo c-tech (new)

25 x 140 x 1850 mm (3/4" x 5-1/2" x 6'-3/4")
The advantages of our selected woods
Wood of durability class 1
Class of use 4 and/or covering class 5
Naturally durable wood requiring no treatment
Selected for their natural stability
Choice of selected wood, A premium quality.
Dry wood KD 13% (+/- 2%)
Material pleasant to walk on, neither hot nor cold
Wood certified FSC, VLK, IBAMA, OLB and or with EUTR FLEGT certificates.
Examples of achievements with Softline
Get inspired with our inspirational photo library
Discover our Technideck wood decking system
Discover also Technideck, our decking system with invisible fixing on aluminum structure.

Discover Technideck
Find a
reseller
Enter your city
Do you have any
questions

?

Find the answers to all your questions

Consult the FAQs