What are the special features of your façade products?
Wooden cladding/facades
Quelles sont les particularités de vos façades en bois ? – Est-ce que vous fournissez le bois et la fixation ?  
Quelles sont les particularités de vos façades en bois ? Vetedy est fabricant d'un système complet avec lames de revêtement et fixations adaptés. C'est d'ailleurs l'un des avantages que prône Vetedy, tous les éléments sont fabriqués de façon à pouvoir être assemblés ensemble sans aucun risque.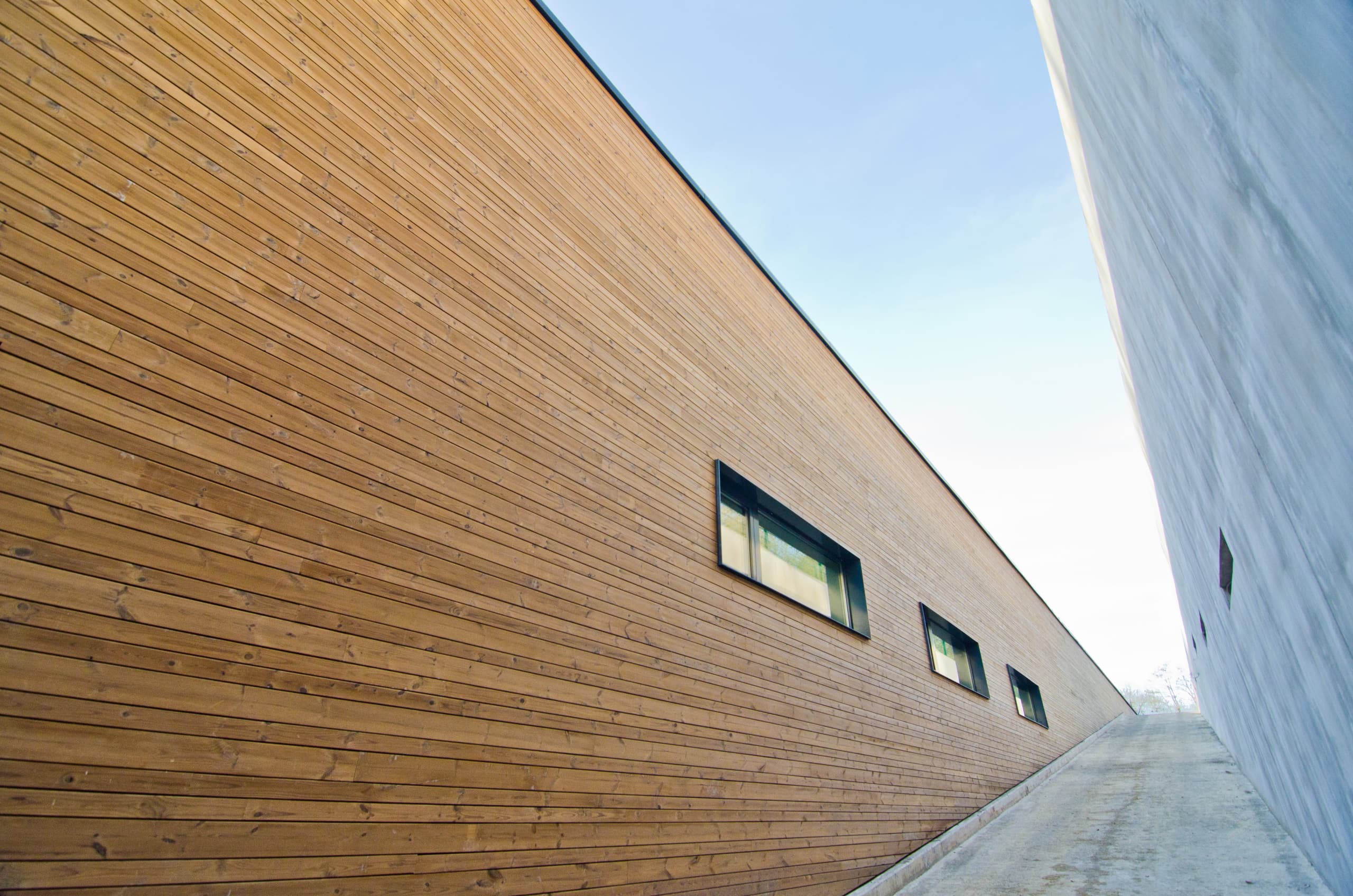 Stand de tir de la police luxembourgeoise en bardage bois pin du nord premium Techniclic by Vetedy
Quelles sont les particularités de vos façades en bois ? – Pourquoi devrais-je opter pour un bardage Vetedy ?  
The Techniclic system, patented worldwide, is modular: it includes 3 board widths, 4 spacings between boards, 3 installation directions and 7 wood species. Thanks to the possibility of mixing widths, spacing and direction of installation, you can use your imagination and create your own siding configuration! Get inspired with our photo library.
In addition to the technical aspects mentioned here, the Techniclic system is a durable solution for covering the façade of your building.
Which wood to choose for my siding?
It is above all a matter of taste: with or without a bow? Do you want to let the siding turn grey? Which blade section do you want? The best way to choose the wood for your future siding is to find inspiration here
Finally, it is also a question of budget, some woods are more expensive than others.
What are the advantages of wood siding?
Wood siding is timeless. It is also ecological.
The wood is warm and breaks the monotony of the facades in plaster/render. It also adds value to your building.
What are the advantages or disadvantages of the different horizontal , vertical or diagonal poses?
The installation of the vertical siding allows water to drain away, thus avoiding certain marks. It often gives a very contemporary effect to the building. With the addition of spacer (to space the boards more or less) and by alternating the width of the boards, the result is simply magnificent.
The horizontal installation, more traditional, although, gives an effect of grandeur to the facade. Installing your siding horizontally is also easier and faster.
What is the weight of the Vetedy system?
The weight varies mainly according to the type of wood.
Techniclic siding (fasteners and boards) weighs between 6.5kg/m2 and 15.5kg/m2.
What is the height/thickness of the Vetedy system?
The Techniclic system measures 30mm in thickness (clips and boards) plus the battens which are generally +/- 30mm.